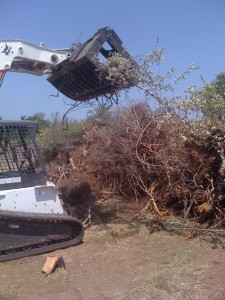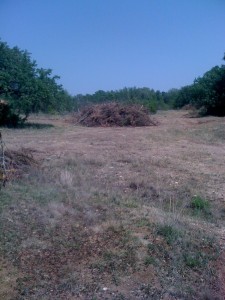 We were contracted to help clear out over 2800 acres of Mesquite and Cedar in and around Fort Hood. This is a several month long endeavor utilizing everything that the Bobcat can muster. The contract involves bundling up the trees into piles 70 feet long, by 20 feet wide by 15 feet high. Currently we are averaging around 15 acres a day. The job will run through June, and possibly into July. Here are some pictures of the kinds of things that we are able to accomplish with the Bobcat.
Being able to load over 3 thousand lbs of brush in each scoop makes for quick work. Here you can see the big 84″ grapple performing admirably.
These piles will sit for a few months, and then they will be burned by the military on site.
What is somewhat interesting, is that we are finding all kinds of junk left overs from previous training exercises in the ground all over the place. These include explosive devices like training land mines, mortar rounds, and 50 cal ammunition. These are reported to inspectors who come in and depose of these properly.
If you would like for us to clear out brush in your area, please contact us for a estimate. We have very affordable rates from really small 1-2 hour jobs all the way up to jobs like this that spans several months.